Bitcoin continues to depart crypto exchanges, with a sudden uptick in withdrawals in the last week.
The total amount of Bitcoin on exchanges has fallen to 2.3 million BTC, the lowest level seen since July 2018, according to Glassnode data.
Over the last decade, the amount of Bitcoin held on exchanges continually increased. While there were a few dips, it just kept rising. By July 2018, it reached 2.3 million Bitcoin. It then kept rising, for another year and a half — reaching a peak of nearly 3 million BTC in February 2020. And then it changed direction.
For the rest of 2020, it has been flying off exchanges. Since February, the total amount of Bitcoin has fallen to 2.3 million. This represents a 21% decline during this period.
This frequency has been amplified in recent days. Since December 5, the total amount of Bitcoin on exchanges has decreased by 2.4%, indicating a much sharper downward trend than previously seen.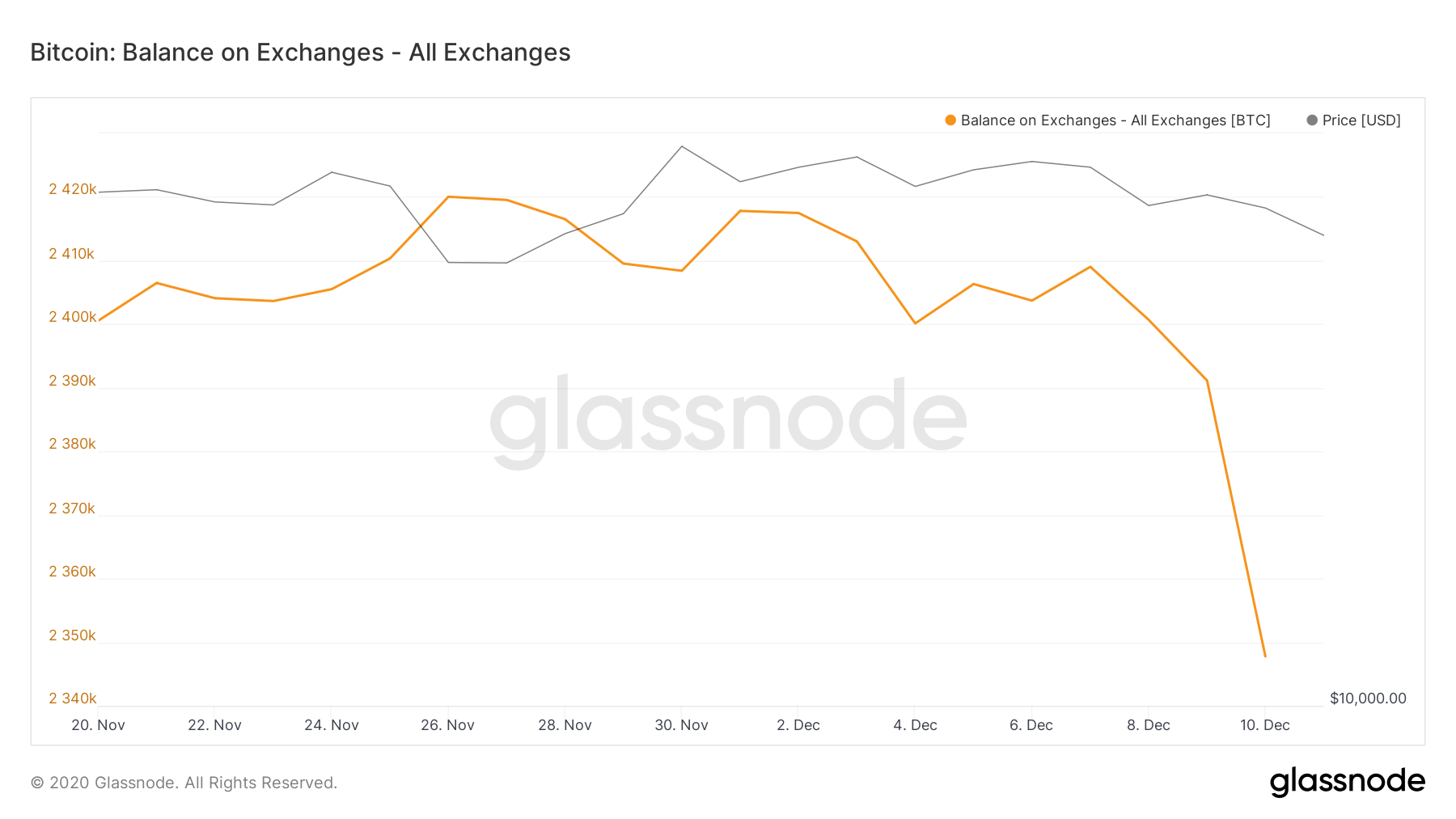 "The obvious conclusion is that it is being moved to long term cold storage, but it could also be a indication of improved awareness of security from more sophisticated users wary of the 'not your keys, not your crypto' mantra," Jason Deane, Bitcoin analyst at Quantum Economics, told that.
Deane's view is backed up by some of the troubles that crypto exchanges witnessed during BTC's record-breaking bull run. This September, popular exchange KuCoin suffered a major hack which resulted in the exchange's trading volume declining by 21% on the previous year. This may have caused investors to take their Bitcoin off of exchanges for fear of them getting hacked.
But others believe this decline indicates a positive future for it. Speaking last week, Glassnode CTO Rafael Schultze-Kraft said BTC could be being moved into cold storage for the long term. He argued this could lead to a supply crisis.
"I think this is extremely bullish for the price of Bitcoin," he said, adding, "Something we're keeping our eyes on very closely."
Read more:
TimeBit/Source: Decrypto
*The article is for information purposes and market analysis only, not an article that encourages investment. You should do your own research before making any investment decisions. Crypto, Forex news updated 24/7 on our social media channels: Follow us at TimeBit and Telegram Timebit-Cryptonews.