The Bitcoin balances on all major crypto exchanges have fallen to their lowest point since August 2018.
In brief
The total amount of Bitcoin on all exchanges has fallen to a two year low.
This amount has been decreasing for most of 2020.
Over the last 24 hours, Bitcoin's bull run that saw price almost reach an all-time high came to an end.
The Bitcoin balance on all major crypto exchanges has fallen to levels not seen since August 2018—hitting a 27-month low—according to data from Glassnode. The current balance on exchanges is 2.3 million Bitcoin.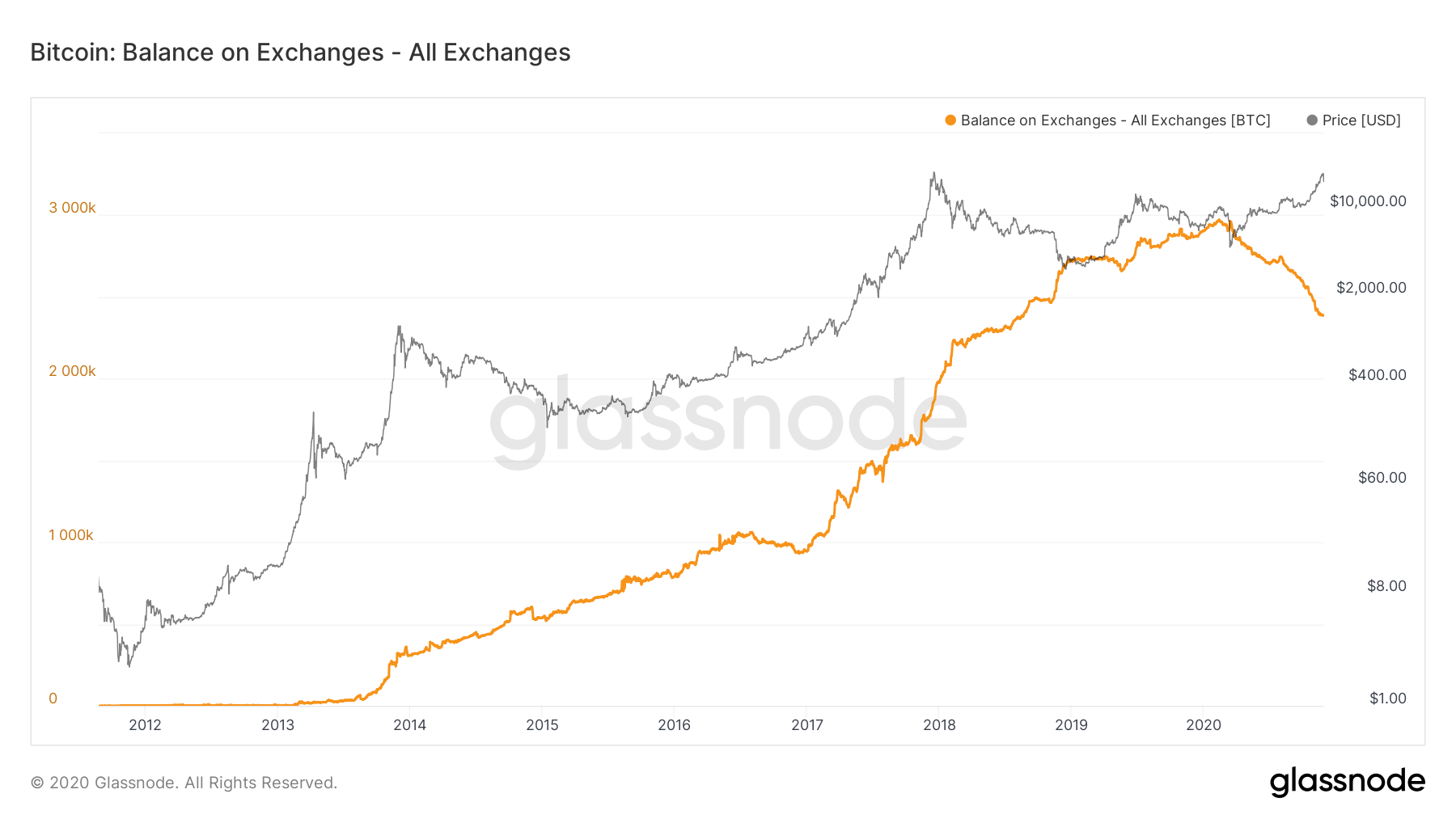 The total amount of BTC on all exchanges has been steadily increasing since 2014. It moved from about 350,000 Bitcoin to just under 3 million in January of this year, an increase of over 750%.
From that point on, it began to decrease. In August, the total amount of Bitcoin on exchanges fell to 2.6 million. This week, the number is all the way down to 2.3 million. This represents a total decline of 23%—a significant amount.
As the balance on exchanges dropped, Bitcoin's price performed well. While it initially fell down to $4,000 (when the stock market crashed), it soon rebounded and moved above the $10,000 mark for the longest run in history.
As the exchange balance continued to decline, Bitcoin's price rose even further—going on to witness a run up to $19,500.
There may or may not be a causal relationship between the two, but they do appear to be somewhat related.
In the last 24 hours, however, the price of Bitcoin has dropped significantly. It has fallen from $19,299 to $17,266—a factor that may affect the amount of Bitcoin heading to and from exchanges.
Read more:
TimeBit/Source: Decrypt
*The article is for information purposes and market analysis only, not an article that encourages investment. You should do your own research before making any investment decisions. Crypto, Forex news updated 24/7 on our social media channels: Follow us at TimeBit and Telegram Timebit-Cryptonews.